Master Han Our Tae Kwon Do program focuses on the physical, social and mental development of students. A team of committed, passionate and experienced instructors are guiding students with personalized attention to make the learning process effective. Based on a system of advancing levels, Tae Kwon Do is especially good for those who are: achievement-driven, who enjoy fast-paced exercise and challenges, who want to develop confidence through overcoming psychological barriers.
Master Han
Over 25 Years of Experience
Certified Professional Instructor
Modern facility
WTF(World Taekwondo Federation) and Kukkiwon 7 Dan Certified Black Belt
Is known for a positive and encouraging atmosphere
Kids Martial Arts Classes– Children gain focus, self-confidence, and respect while learning Tae Kwon Do in a fun, active setting.
Teens and Adults Martial Arts Classes– Teens and adults improve their physical fitness and relieve stress in a positive, encouraging environment.
Little Dragons Classes for 4 – 6 Yr Olds– Preschoolers and kindergarteners burn off excess energy while gaining greater focus and self-control.
Family Classes– Families learning and spending quality time together.
Stop Bullying-Self Defense Classes – Learn strategies and martial arts techniques to build confidence to stand up to bullying!
Birthday Parties– Martial arts themed birthday parties for children.
Kids Summer Camp– One to two month program.
TKD Reward Program
We want to give the students rewards through our website to improve their skills and motivation.
Click the link below in order to see their progress. Their progress will be updated one day after class.
When each goal is completed, a prize will be given according to the character. To earn the respect award, parents will have to send in an email. A one to five star rating based on their behavior. (Until June 15 2020). The rewards are required in the belt test which is once every 2month 15.
Reward Program
Tae Kwon Do
Little Dragon Ages 4-6yrs: Tues, Thurs 4:50 PM ~ 5:30 PM
All Belts : Tues, Thurs, Friday  5:30~6:20 PM
All Belts : Sat  10:40~11:30 AM
Black Belt Sparring : Sat 11: 40 ~ 12: 10 pm
Tae Kwon Do Makeup Class: Sat 10:40 AM – 11:30 AM
S.T.A.R.S. (Ages 7-18 Special Needs) : Sat 10:40 AM – 11:30 AM
TaeKwonDo Schedule
Time
Mon
Tue
Wed
Thurs
Fri
Sat
4:50-5:30pm
Kids 4-6yrs
Kids 4-6yrs
Private Lesson by appointment
10:40-11:30am
All Belts
5:30-6:20pm
All Belts
All Belts
Private Lesson by appointment
11:30am-12:10pm
Black Belt
6:30-7:30pm
Self Defense
Self Defense
Private Lesson by appointment
Black Belt Essay
Ryan Yoo
Being a black belt.  What does it mean, really?  Being a black belt does not mean that I have mastered Taekwondo.  Being a black belt does not mean that I can look down upon color belts.  Being a black belt means something different to everyone else, but to me, being a black belt means that you have entered a new world, a world of possibility and excitement.  Taekwondo is not over when you have achieved the rank of black belt.  You have simply entered a new phase of Taekwondo, a phase where your master will guide you and help you be the best you can possibly be.  But even your master has not truly reached total mastery of Taekwondo.  I believe that true mastery of Taekwondo is unachievable.  You can always learn new things, and you can always keep practicing to make you even better than you already are.  I have an unimaginable amount of respect for my master, as he is not only a good Taekwondo teacher, he is a wonderful and caring person, but even he has not mastered Taekwondo.  Think of it this way;  can you really master art?  Can you master music?  The answer to both of those questions is no.  Sure, you can be extremely good at both of them, but you can never reach a point where you cannot get better at it.  Taekwondo is the same way.  You are never really done with Taekwondo.  You are just better than you were yesterday.  I can never dream of mastering Taekwondo, because doing so is unachievable.  I can, however, keep practicing to get better and better.  Black belt is just  something to show that you have reached a high level of Taekwondo.  I do not have the right to boast to color belts about my being a black belt, nor do I have the right to pretend that I am better than everyone else.  However, I do have to be extra respectful and polite, because now that I am a black belt, color belts might look up to me and model themselves after me.  I have to stay honest and honorable, and I have to have integrity.  This is the true meaning of black belt.
September 2019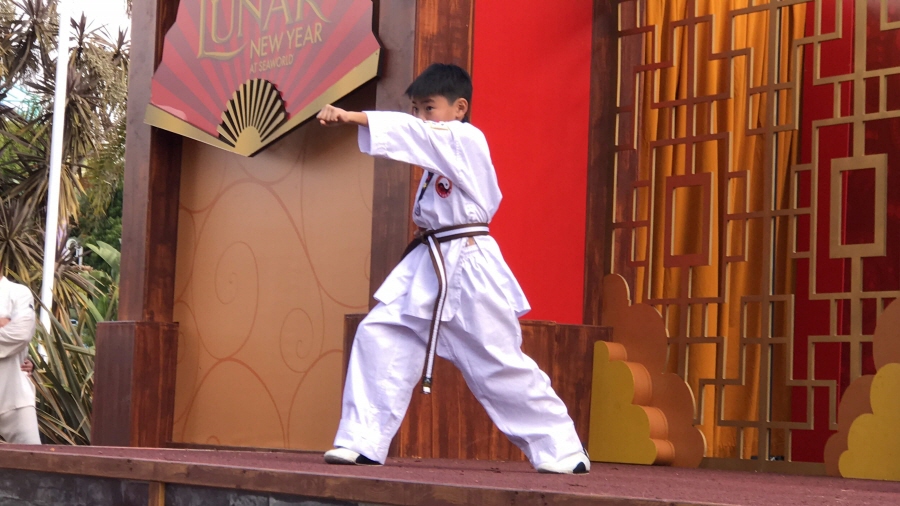 Black Belt Essay
Justin Yoo
In the summer of 2016, my brother and I enrolled in the HDMA for Tae Kwon Do lessons, eager to begin our training. After that first lesson, I knew for sure that I had found a hobby that I would enjoy. After three years, I am one test away from becoming a black belt. This test, however, is special. Not only are my physical limits being tested, I must also show my understanding of what Tae Kwon Do is and what it teaches us. I have to ask myself: what does it mean to me to be a black belt? To me, the answer to this lies in the meaning of martial arts.
Taking martial arts lessons has been a great learning experience for me. However, the message that Tae Kwon Do tells us is not in the techniques we learn. Although the fitness and kicks are important, I think that the most important thing Tae Kwon Do teaches us is patience and perseverance. Martial arts is far from easy, and more than likely you are going to face challenges and obstacles. Sometimes you may feel like giving up. No matter how difficult it seems, you have to keep going. As long as you put your best effort into it and practice diligently, you will be able to improve. You can't expect big results right away, but that's alright. The important thing is that you don't stop trying. That is what martial arts teaches us. The black belt is more than just a piece of cloth you wear to show others your rank. It is a result of hard work and grit. It shows others that I had the courage to keep going, no matter how tough it got, and it signifies that I will have to work even harder to keep it. The black belt doesn't tell others that you are superior to them; it shows them how much you enjoy martial arts, and how much you push yourself. It also means you have a lot of responsibilities. Someone could always be looking up to you, so you always need to be the best version of yourself. There is always a way to improve.
Tae Kwon Do doesn't end at the black belt. You need to keep practicing and improving in order for it to mean anything. This is why Tae Kwon Do is so important. It teaches you the correct attitude to have in real life. Instead of seeing challenges as a bother, you learn to accept the obstacles that you face in whatever you do. Once you embark on your martial arts journey, it never really ends. Because Tae Kwon Do isn't just a martial art; it's a way of life.
September 2019